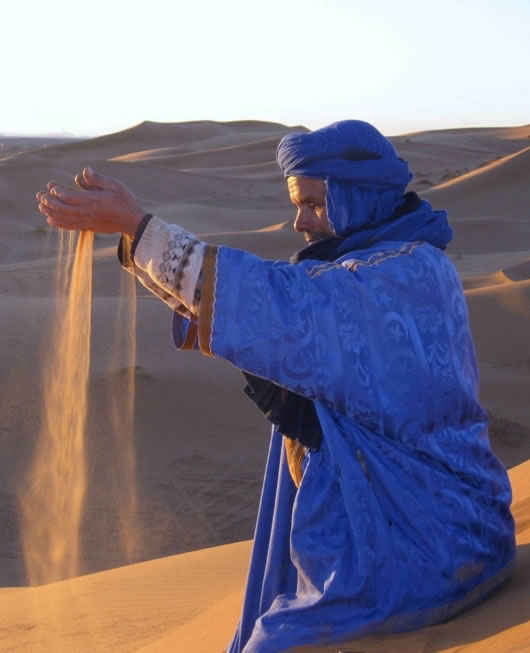 See the Best of Morocco on a Small Group Guided Tour
Welcome to Morocco - See the Best of Morocco on a Small Group Guided Tour
We invite you to tour the mesmerising landscape of Morocco and Marrakech through our wonderful small group tours through a land of dramatic contrasts, legends and romance, Our cultural guided tours of Morocco offer a an unmatched opportunity for adventure. Our Atlas Mountains hikes take you through breath-taking scenery on the path less travelled. On the back of a camel, embark on a Sahara desert tour where you will sleep under vast starry skies and witness majestic sunrises from the top of a giant sand dune.
Based in Southeast Morocco, we are a family-run guided tour operator that will show you the parts of Morocco less touched by travellers. Our authentic, cultural tours of Morocco for small groups highlight only the best of the country that has marked us so deeply. Our passionate tour guides are native Moroccans and know region inside out. They love to go above and beyond to make your time in Morocco an experience you will treasure forever. 
Our small group tours of Morocco allow more time to explore the hidden gems. Whatever you want from your trip, we can arrange a tour tailored to you, your interests, and your preferences, whether you want an exhilarating trip of a lifetime or a relaxing retreat from your busy life. 
Grand Tour of Morocco
This is a 16-day adventure of a lifetime. This is one of the best guided tours of Morocco you can find, as our tour guides will not only show you the country's highlights but will pass on their intimate knowledge of the history, traditions and culture of each place you pass through. Morocco's landscape is diverse, and no two Moroccan cities and towns are the same. You'll hike through the other-worldly Atlas Mountain landscapes, browse the bustling Souks of Tanger and Casablanca, and experience the delicious cuisines. Suitable for couples, families, or small groups, this is the perfect way to experience everything Morocco has to offer in a single trip, whether you are going on your own or with a small group.
Camel Trekking and Kasbah Trail 
For centuries, nomads and merchants have used camels travelled through the Sahara desert in Morocco and beyond. Follow in their footsteps as our seasoned tour guides lead you across the desert in an air-conditioned vehicle, and on a camel trek, which will end in an overnight camp in the desert. There are different tour itineraries to choose from – ending in Fes or Marrakech. Your local tour guide will be a fluent English speaker and will look after you every step of the way. The camp is fully equipped with Western style toilets for your convenience. 
As you make your way through the ancient Dades valley and majestic Todra Gorges, you will experience the historic Kasbahs that Morocco is known for. These towering fortresses were lived in by the wealthy for hundreds of years, providing protection from invaders. 
One-Day Guided Tours of Morocco 
On a shorter Moroccan day tour, you will be immersed in the hustle and bustle of Marrakech. This colourful city is packed with traditional mosques, colourful architecture, and lush private gardens. Our tour guides can recommend the best restaurants, coffee houses and luxury spas to make your day truly special. 
We can also arrange guided tours of whichever city you choose. Contact us to discuss your preferences, and start arranging a Moroccan day trip tour to remember. 
Marrakech Tailor-Made Tour
Our bespoke Marrakech tour experiences are all about relaxation and good times. Including your arrival and departure dates, the entire trip lasts six days. We are happy to make it as long or as short as you like. During your Moroccan holiday tour, your options are endless. Wander around the beautiful Mosque of Medina, see Morocco's towering Atlas mountains from the perspective of the ancient nomadic Berber culture, and savour the aromatic tagines served in traditional local souks and eateries. You might want to take a Moroccan cookery class, or speed through the palm groves of Marrakech on a quad bike. However you decide to spend your holiday, we will be delighted to accommodate you. 
You will be personally greeted at any airport, railway station or from your hotel anywhere in Morocco and welcomed with a glass of traditional mint tea and the friendly greeting "You are welcome to Morocco".
We are proud to announce that Around Morocco Tours has been awarded the Trip Advisor Travellers' Choice award.

Video
For a quick introduction please watch our customer's video